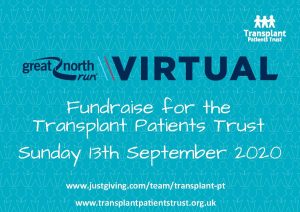 Virtual Great North Run 2020 – Fundraise for the Transplant Patients Trust
Against all odds the Great North Run 2020 will take place, albeit in a very different format to usual, thanks to virtual technology. This exciting development means that this time everyone has the chance to get involved.
The new and Official Virtual Great North Run will take place on the 13th September 2020. The team behind the Run are working in partnership with app provider ViRACE to create an innovative virtual experience with audio clips. This allows participants to hear the sounds of the Great North Run, providing as close an experience as possible to the real event.
The race will mimic the real format so that all runners start their virtual Great North Run at the same time and complete the same 13.1 mile distance. Runners will be tracked throughout the virtual race and will be able to view results after the race has finished.
Why is the Virtual GNR so important for TPT?
In a year filled with uncertainty, many charities, like us at the Transplant Patients Trust of Great Britain, have unsurprisingly seen fundraising events cancelled and income streams all but cease.
However, while the uncertainty continues for most of us, for the patients and families that we continue to support, one thing remains certain: the individuals or their loved ones still require lifesaving transplant surgery.
As the economic impact of the Coronavirus is set to continue for some time, the number of those requiring emergency financial assistance through this difficult time is set to rise significantly. To enable us to meet the increased need for our patient and family emergency financial support grants, we need your help.
How to Enter GNR Virtual
Entry to the GNR Virtual is now open, is free to enter and will be open to everyone, regardless of whether someone had a place in this year's Great North Run.
Click here to Enter
Join Team Transplant PT
Once you have entered the GNR Virtual you can set up your own fundraising page and join team Transplant-PT at JustGiving by clicking here. Or, if you want to join our group page, with no personal fundraising target, simply share this link with your friends and family https://www.justgiving.com/fundraising/gnr-transplant.
We would love to hear from you, so please email info@transplantpatientstrust.org.uk to let us know you will be supporting and running with us. Whether or not you manage to complete the race, you'll still receive a massive thank you from us.
All of us at the Transplant Patients Trust and the patients and families we support are extremely thankful to everyone that chooses to run with us.
As a thank you, everyone that chooses to support us this year will receive first refusal for any future spaces we have available for the GNR in the years to come.
Start Fundraising
Now that you have entered and joined our team, it is time to get fundraising. We are here to support you every step of the way and we have produced several images and posts that you can share to help get the word out there and get donations rolling in.
Right click on the images below to save and share on your socials.