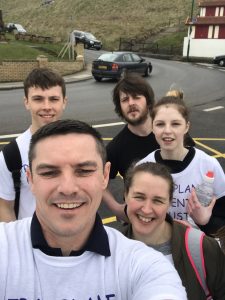 Whitby to Redcar Sponsored Walk for TPT
Transplant Patients Trust is honoured and eternally grateful to have had funds raised for our cause and for Freeman Hospital by Mark Sherwood, Andy Campbell and Craig Harrison together with their friends and family.
It is an inspiring story of how transplants can help save lives and did so for one teenage girl named Chloe. After becoming ill with jaundice, Chloe spent 9 days in a coma, while her and her parents waited 6 long days for a match to become available and a transplant to be possible. It was a match that gave Chloe a chance to continue living the long life she deserves.
Grateful for the support given to Chloe and her family, dad Mark set up a virgin money giving page to raise funds for the Transplant Patients Trust and Freemans Hospital who cared for Chloe during her illness. With Chloe's dad Mark, ex Middlesbrough FC/ Cardiff City player and friend Andy Campbell and ex Middlesbrough FC/Crystal Palace player Craig Harrison they embarked upon an astonishing 28 mile walk from Whitby to Redcar on the 8th April 2018, along with many family and friends, who were keen to be involved. Together they raised an incredible £6300, £5300 of which was donated to the Transplant Patients Trust and £1000 to the Freeman hospitals 'Dreame Fund' which was well over their goal of £300.
A huge thank you to Mark, Andy, Craig and everyone who took part for their incredible kindness and support. It is thanks to people like these that we are able to continue our work and making a difference to the lives of more people like Chloe and their families.
Incredibly brave Chloe and her fundraising family and friends are shining examples of what can be achieved. Not only was a teenager girls life saved, but friends and family pulled together to create a fundraising event that gave back and truly made a difference.
If you would like to start your own fundraiser and make a difference to the lives of those waiting or who have undergone an organ transplant, we can help you. See our Support Us page for more information on how we can support you during your campaign and how to get started.