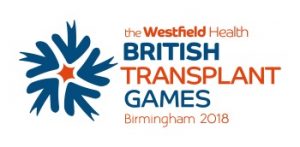 British Transplant Games 2018
Since first being held in Portsmouth in 1978 The Transplant Games have been the flagship calendar event of the charity Transplant Sport. Originally the Games welcomed people from all over the world including those all the way from USA. Since their beginning the Transplant Games has blossomed into British Transplant Games, growing at an exceptional rate with teams from different UK hospitals coming together to compete in the varying activities with some going on to compete in the World Transplant Games.
Each year the event is held in a different UK location which has previously included Edinburgh, Belfast and Liverpool. This year the games will be proudly hosted in Birmingham. From 2nd to 5th August the Transplant community will be brought together in a show of support for one and other and in remembrance of the donors and their families. The community will be able to take part in over 20 different activities, showcasing what their transplant and active lifestyle has helped them achieve and proving to others what is possible.
The Games not only brings people together in a show of support, it also helps to deliver the aim of Transplant Sport by demonstrating the benefits of transplantation and the life changing affects it has. The Games also help to promote Transplant Sport's aim to raise much needed public awareness of the importance of transplants and actively encourages people to join the NHS donation register.
You can get involved as a sports manager, events volunteer, sport support volunteer, fundraiser and join the Donor Run. If you want to compete in the games you need to talk to your hospital manager to discuss registration. You can also find out lots of useful information on the British Transplant Games website: www.britishtransplantgames.co.uk
If you would like more information on the charity Transplant Sport and how you can get involved in the amazing work they do please visit: www.transplantsport.org.uk