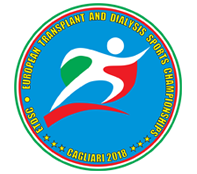 European Transplant and Dialysis Games 2018
The European Transplant and Dialysis Sports Championships are returning for their 10th spectacular year. This year the event is being held in the Cagliari, the beautiful capital city of the Italian island Sardinia on 17th-24 June 2018.
The games are dedicated to promoting an active lifestyle and bringing people together, creating a community of support and showcasing what amazing things can be achieved thanks to transplants and dialysis. The games are open to all kidney, liver, heat, lung, pancreas, and bone marrow transplant recipient as well as dialysis patients.
The European Games is a multi-sport event that allows entrants to compete in the following sports: volleyball, badminton, tennis, table tennis, cycling, petanque, swimming, darts, golf, virtual triathlon, mini-marathon and athletics. There is also the option to join the social sport of floorball. Athletes are divided into age groups Athletes are divided into age groups (18–29, 30–39, 40–49, 50–59, 60–69, 70+).
This fun and exciting event is a great opportunity for people who have been affected by transplants and dialyses to come together and show Europe the positive life changing affects these procedures can have. Entrants had the option to stay for the full period although it is not a requirement.
Registration for the event is now closed but more information can be found on European Transplant and Dialysis Sports Championship can be found on the website. Find out how you can get involved and become a sponsor to show your support today: http://www.cagliarietdsc2018.it