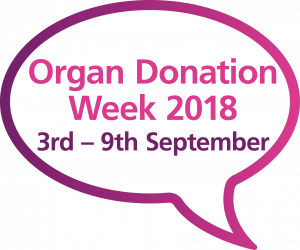 Save the date! Organ Donation Week 2018
Save the dates for the very special event Organ Donation Week 2018 which will be taking place between 3rd and 9th September. Here at Transplant Patients Trust we are very excited about the amazing work that will be taking place during these dates. Details are yet to be announced so watch this space.
Organised by NHSBT, Organ Donation Week is a campaign that designed to encourage people to talk to their families about the importance of organ donation and the lifesaving benefits it has. When you pass away your families will be asked about your decision on organ donation, even if you are already on the register, which is why it is vital they be made aware of your support. It is also great chance for those who are not yet registered to learn more about what is involved and why it's so crucial they join.
Last year Organ Donation Week saw huge support, with people sharing on social media the heart-warming tale of "Hugs". The video showcased little Louie's joy of having his brother Freddie around after he had successfully undergone a liver and heart valve transplant. The story remains as important today as it did last year and we encourage you to watch and share.
34,000 people joined the NHS Organ Donation Register last year, a phenomenal success and show of support. This year it is hoped even more people will join as well as get involved in the on ground events, show support through social media and continue to discuss this important subject.
For more information on the work NHSBT do, how you can get involved and to join the Organ Donation Register please visit www.nhsbt.nhs.uk today. For ever one person who joins, eight lives can be saved.