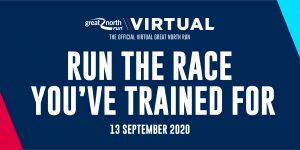 Virtual Great North Run 2020
The new and Official Virtual Great North Run will take place on the 13th September 2020. The team behind the Run are working in partnership with app provider ViRACE to create an innovative virtual experience with audio clips. This allows participants to hear the sounds of the Great North Run, providing as close an experience as possible to the real event.
The race will mimic the real format so that all runners start their virtual Great North Run at the same time and complete the same 13.1 mile distance.  Runners will be tracked throughout the virtual race and will be able to view results after the race has finished.
View our blog post for details on how to enter and support the Transplant Patients Trust.